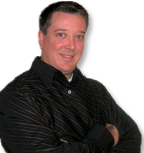 From time to time, I've saluted Microsoft MVPs (Most Valuable Professionals),   recognizing the invaluable service they provide to the Microsoft user community in numerous categories. Having an MVP on staff here has only deepened my appreciation for what they do. Of course, I have to admit it's nice to know and makes us proud that PerfectDisk is the preferred defragmenter of choice of MVPs around the world.
I love hearing their stories, which are relayed to us frequently. Keith Elder is a Microsoft MV and INETA speaker, and runs the popular, informative and entertaining Deep Fried Bytes technology podcast as well as his blog, Words of Wisdom from the Elder. Keith is a big fan of the PerfectDisk base product, but also has experienced huge benefits from PerfectDisk 10 for VMware.
Actually, his story starts out with the prior version, PerfectDisk 2008 for VMware. Keith had a virtual machine that would not boot. He kept receiving an error message and it appeared to him that the disk was somewhat corrupted. Keith says he "ran PerfectDisk on it and after it was done it fixed the problem, and I'm still developing in this VM right now. Had it not been for PerfectDisk's integration with VMware, I honestly don't know what I  would have done next. Probably would have had to resort to recovering off site backups."
How do you defrag VMware?